Las Vegas Carpet Cleaning
Welcome to Quick Dry Carpet Cleaning: Las Vegas' Premier Dirt Encapsulation Experts
Are you tired of struggling with stubborn dirt and grime in your carpets? Look no further than Quick Dry Carpet Cleaning, your trusted partner for professional dirt encapsulation carpet cleaning in Las Vegas. With our cutting-edge technology and skilled technicians, we deliver exceptional cleaning results that will leave your carpets looking pristine and feeling refreshed.
Why Choose Quick Dry Carpet Cleaning?
Advanced Dirt Encapsulation Techniques: At Quick Dry Carpet Cleaning, we employ state-of-the-art dirt encapsulation technology that goes beyond traditional carpet cleaning methods. Our innovative approach effectively traps and removes dirt particles, preventing them from resurfacing and extending the lifespan of your carpets. Say goodbye to deep-rooted stains and hello to cleaner, healthier carpets.
Experienced and Knowledgeable Team: Our team of highly trained professionals is well-versed in the latest carpet cleaning techniques. With years of industry experience, we understand the unique challenges faced by homeowners and businesses in Las Vegas. Rest assured, we have the expertise to tackle even the most stubborn dirt and grime, delivering exceptional results every time.
Eco-Friendly Practices: Quick Dry Carpet Cleaning is committed to environmental responsibility. We utilize eco-friendly cleaning solutions that are safe for your family, pets, and the planet. Our products are free from harsh chemicals and toxins, ensuring a healthy and green cleaning experience. We take pride in providing exceptional service while minimizing our ecological footprint.
Personalized Approach: We understand that every carpet has unique cleaning requirements. That's why we offer personalized cleaning solutions tailored to your specific needs. Whether you have high-traffic areas, pet stains, or deep-seated dirt, our technicians will assess the condition of your carpets and recommend the most effective cleaning method. We believe in delivering customized solutions that exceed your expectations.
Satisfaction Guaranteed: Customer satisfaction is at the core of everything we do. We strive to deliver a seamless and hassle-free carpet cleaning experience, from your initial contact with us to the final results. Our dedicated team will go above and beyond to ensure that you are delighted with our services. If for any reason you are not completely satisfied, we will make it right.
Affordable and Reliable Carpet Cleaning Services in Las Vegas:  At Quick Dry Carpet Cleaning, we believe that professional carpet cleaning should be accessible to everyone. That's why we offer competitive pricing without compromising on quality. Our transparent pricing structure ensures that you receive an accurate estimate upfront, with no hidden costs or surprises.
Whether you need residential carpet cleaning, commercial carpet maintenance, or specialized stain removal, Quick Dry Carpet Cleaning is here to help. We serve homeowners, businesses, property managers, and more across the Las Vegas area.
Don't let dirt and grime ruin the beauty of your carpets any longer. Contact Quick Dry Carpet Cleaning today to schedule an appointment or request a free quote. Experience the QuickDry difference and enjoy spotless, rejuvenated carpets that will leave a lasting impression.
About Our Process
Our state—of-the-art method dries in 90 minutes or less. It revitalizes the carpet and deep cleans the fibers to ensure a longer lasting clean. This is a healthier approach. It adds years to the life of the carpet and pad. Low-Moisture cleaning also avoids "soaking" of the carpet and pad which mitigates the growth of mold which can cause not only health problems but makes replacement of carpet and pad a must.
Dirt encapsulation carpet cleaning is a newer technology that has several advantages over traditional hot water extraction carpet cleaning. The primary advantage of dirt encapsulation is that it uses less water, making it more environmentally friendly and reducing the risk of mold growth.
This method involves applying a cleaning solution to the carpet that encapsulates dirt and other contaminants, forming a crystal-like substance that can be easily removed by vacuuming. This process is less disruptive to the carpet fibers and can extend the life of the carpet. Hot water extraction, on the other hand, uses large amounts of water and detergent to clean the carpet, which can saturate the fibers and padding and create a breeding ground for mold and bacteria.
This method can also leave behind detergent residue that attracts dirt and can cause rapid re-soiling. Additionally, hot water extraction can take several hours or even days for the carpet to fully dry, which can be inconvenient and can lead to water damage. Overall, dirt encapsulation carpet cleaning offers a safer, more effective, and more efficient way to clean carpets.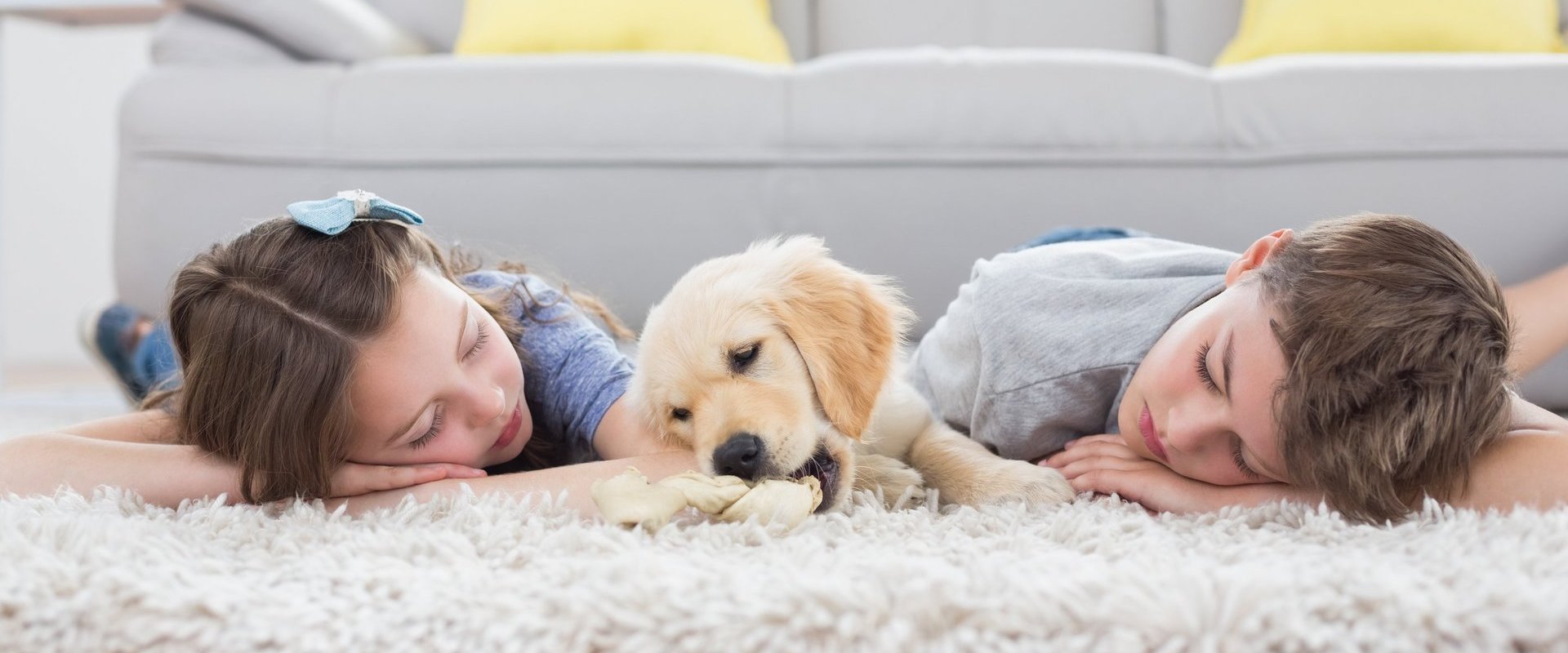 My Story
I started Quick Dry Carpet Cleaning in 2017 shortly after my family and I moved to Las Vegas from Oregon.
For over a decade I had been an award winning graphic designer and enjoyed the luxury of not only working from home, but working for myself as well. A good friend of mine in Oregon owns and operates a massively successful Eco-friendly carpet cleaning company. Through spending time with him, I saw just how busy and successful he had become in this field. So, as I moved to Las Vegas I realized there wasn't many options for eco-friendly low moisture carpet cleaning.
The Tipping Point
One day after moving to Las Vegas, I got a coupon in the email for a $99 all-inclusive carpet cleaning. I called, and when the company had left I had paid them over $350 *even with the coupon. Now, my carpets weren't heavily soiled or damaged from high traffic. It was simply that the companies "$99 SPECIAL" had square foot limitations and different degrees of cleaning in the small print. Long and the short of it was, my carpets got deep cleaned but I was left with a bad taste in my mouth. After doing some research, I learned that this was common practice in the carpet cleaning industry. The up-sell. Right then, I knew I was going to open a different style of cleaning business. One where we value honesty, hard work and live by our word. A company without up-sells. The specials I would quote and offer, would never be a bait and switch. What I was to quote is what the customer would pay.
At the point, my friend from Oregon flew down to Las Vegas and taught me how to effectively clean carpets using a low moisture technology that is not only good for customers carpets but is safe for their children and pets as well.
Alas, Quick Dry Carpet Cleaning was born. And to this day, what we quote is what the customer pays. We work hard, treat our customers homes and property as our own, and value the work ethic and relationships over money. We believe in what we do, and have been confident that we are delivering the most ethical and effective approach to carpet cleaning since our inception.
Book a cleaning and see why the majority of our customers become our friends and continue to call us back for their carpet cleaning needs. You can visit our Yelp page to see what specific clients have to say about their experience with us.
Today, along with my wife Sarah, I am a Las Vegas home owner, small business entrepreneur and in my free time, a motorcycle enthusiast. My son, Alonzo, will be off to Arizona Christian University in the fall to play basketball.